About Ductech South Africa
DUCTECH South Africa
DUCTECH, an HVAC contracting company, was established in 1990 and can handle small, medium and large projects. Our CIDB registration is 7ME and the registration number is 155848.
DUCTECH has completed a number of large and complex projects and amongst others successfully completed thermal ice plants, Offices (Sasol R100mil), Laboratories, Computer Data Centres, VRF systems, Basement ventilations, Hospitals, Shopping Centres, Industrial (Factories), etc. The Civitas 30 storey building worth R58mil with Grinaker/LTA , Melrose Arch Retail as well as One Protea Place with Murray and Roberts worth R23 mil and R20 mil respectively, Riverwalk Office Park worth R25mil and also completed the Natalspruit Hospital worth R36mil with MPC.
DUCTECH management team consists of qualified professional people who are committed to customer satisfaction, competitive pricing, excellent project management, and technically sound installations with quality assurance.
DUCTECH has registered professional people with many years of contracting experience and would therefore be able to assist with final equipment selections, control philosophy and design to ensure all the specified criteria are met.  This will ensure a smooth transition between the various phases of a project from tender stage through to commissioned completion.
DUCTECH is one of the few air-conditioning companies who have their own factory and our proven ductwork-manufacturing capabilities are 125 tons of ducting per month, which is equivalent to 6 428m² of ducting.  This in its turn can easily satisfy an air conditioning project worth more than R100 Million.
Major Plant and Equipment:
Ductech has a 2000m2 factory with 300m2 office space situated in

 

Germiston, Gauteng.

To keep up with the potential growth in the construction industry a new duct forming machine has been imported and commissioned in 2007. This new machine increased our production capacities as it takes less than a minute to groove, notch, bend and cut a rectangular duct.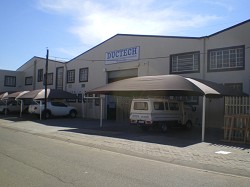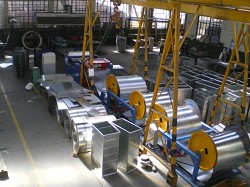 Plant Owned:
Cut-to-length auto de-coiler & duct folder: This machine increased  production capacities as it takes less than a minute to groove, notch, bend and cut a rectangular duct
Lock-former
Guillotine
Bender
Swaging machine
Overhead Crane 5 ton
Aero vane profiler
Plasma Cutter
Auto lock-form joiner
Generators
 Nibblers
 Precision Drill
 Spotwelders
 Rollers
 Argon Welders
 Porta Packs
Delivery trucks and trailers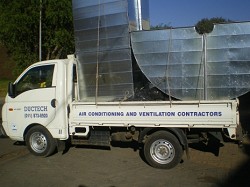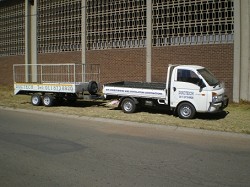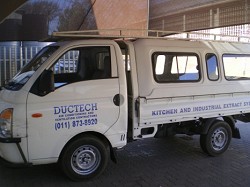 (Delivery Trucks)
Drawing and Other Specialized Facilities:
Permanent engineering, draftsmen, commissioning service and maintenance staff are backed up with engineering software and hardware, specification standards and guidelines, plotter and printers, commissioning and service apparatus, etc.  In addition to that, whenever the need arises, selected competent subcontractors are being used for maintenance, pipe, duct, insulation, electrical and control installations.